Janelle has done it again! This is an amazing recipe perfect for Valentine's Day!!! She writes "One of my favorite restaurants serves this amazing dessert…Make it for guests, or half the recipe (like I did) and make for a more intimate gathering…Have a wonderful Valentine's Day! Much love to you, Janelle"




Eggs, butter, semi-sweet chocolate, flour, sugar
Place butter and chocolate in a microwave safe bowl




Microwave for 1 min and stir, then microwave an additional 20 seconds and stir until smooth.
Add flour with a whisk to the melted chocolate.
Beat eggs and sugar together until frothy and light yellow
Pour chocolate mixture into the egg mixture and beat until well combined
Pour mixture into buttered ramekins (or large muffin/cupcake tins)
Bake until edges are done and center is still molten


MMMMmmmmm….
Put the kids in bed, start a fire, cuddle up on the couch with your Sweetheart and enjoy chocolate bliss!
Molten Chocolate Lava Cakes


Makes 8 (4 oz cakes)
2 4 oz Ghirardellli Semi-Sweet Chocolate baking bars

2 sticks of butter

5 eggs

3/4 cup sugar

1/3 cup flour
Preheat oven to 375 degrees
Butter 8 ramekins or a muffin tin
In a microwave safe dish melt butter and chocolate together for 1 min, stir and microwave again for an additional 20 seconds, stir until smooth. Add flour with a whisk to the melted chocolate mixture. In a separate bowl beat eggs and sugar until well whipped and yellow. Combine the chocolate mixture into the egg mixture. Pour into ramekins and place them on a baking sheet. Place in oven for 15 mins. Sides will be done and center will be molten.
Thank you Janelle!!!!
Walk with the King!
If you are looking for more recipes or have one to share – visit Janelle's new link-up today!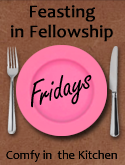 You can follow Janelle on her own blog Comfy In The Kitchen or on Facebook and Twitter.
I am participating in
What's Cooking Wednesday
,
Tempt Your Tummy Tuesday
,
Dining With Debbie
,
Balancing Beauty and Bedlam
, and
Tuesdays at the Table
recipe exchanges. I am also linked up to Raising Homemakers Weds. link up and Works For Me Wednesday! For more blogger recipes go to these links
.