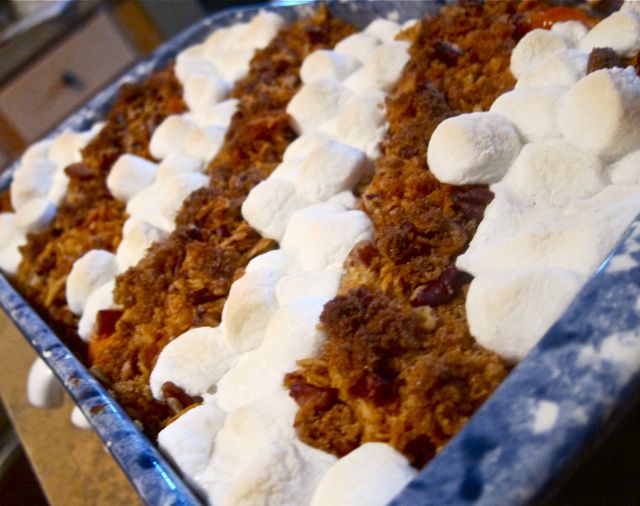 In keeping with the spirit of Thanksgiving – I want to say, I am so thankful for Janelle from Comfy in the Kitchen and her amazing recipes!  She blesses me weekly with her sweet heart and fabulous recipes!  Thank you Janelle – you rock!
Now hold tight because at the end of this post I'm going to tell you how to get her free ebook filled with Thanksgiving Recipes! But first –
Janelle writes:
This is the most delicious sweet potato dish I have ever tasted…period. This recipe comes from Southern Living. Not only is it absolutely scrumptious, it is beautiful! The perfect side dish to add to a special Thanksgiving meal.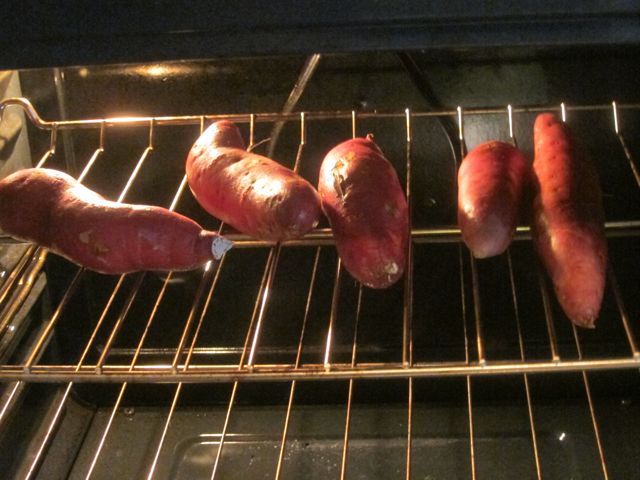 Clean and pierce sweet potatoes. Bake in a 425 oven for an hour.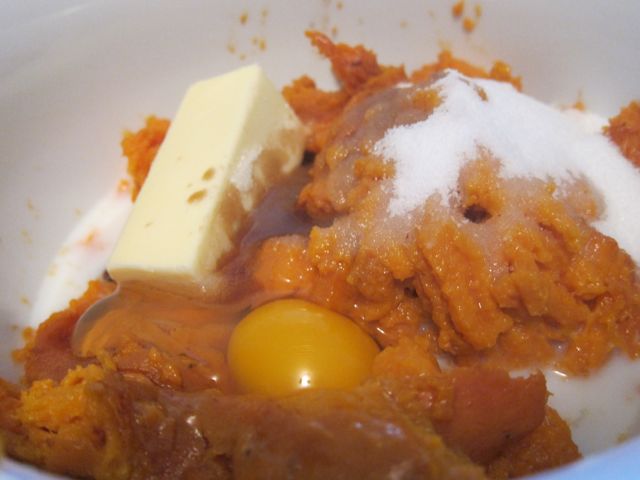 Take potatoes out of oven and let cool enough to touch. Slice open and scoop out insides into a large bowl (I use a serrated grapefruit spoon for this). Add sugar, egg, vanilla, salt and butter.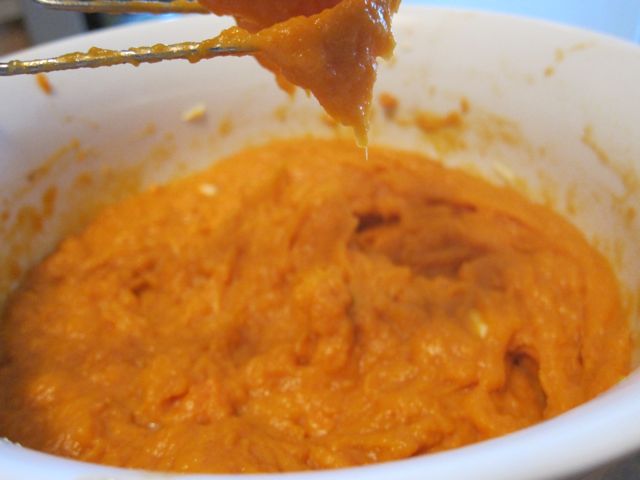 Beat well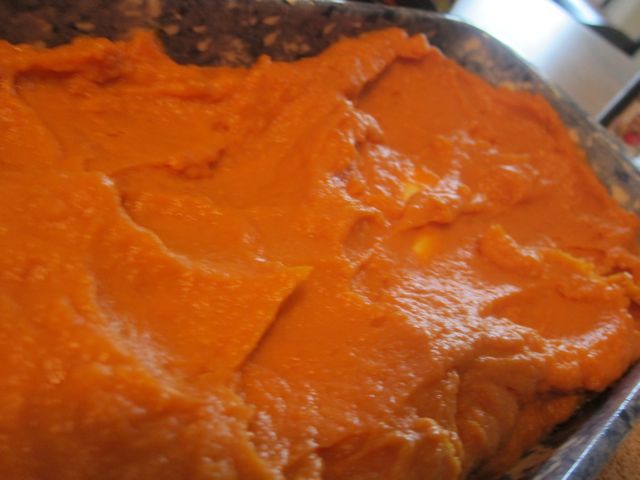 Spoon mashed sweet potatoes in a casserole dish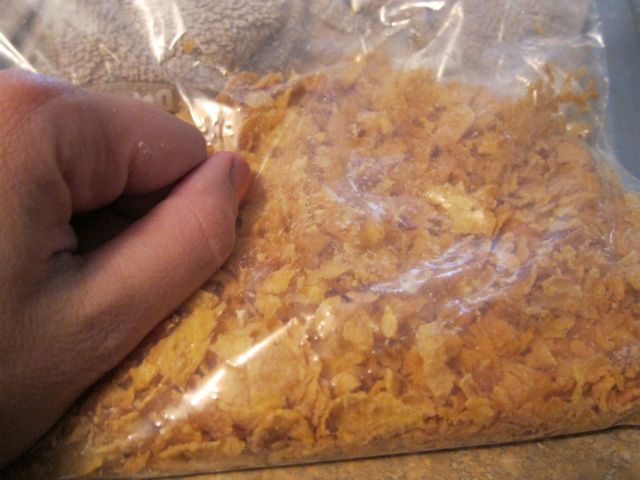 For topping, crush cornflakes in a ziploc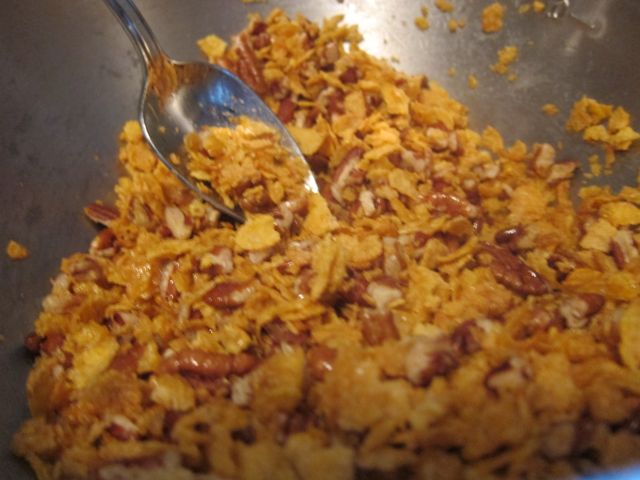 Mix together butter, brown sugar, crushed cornflakes and pecans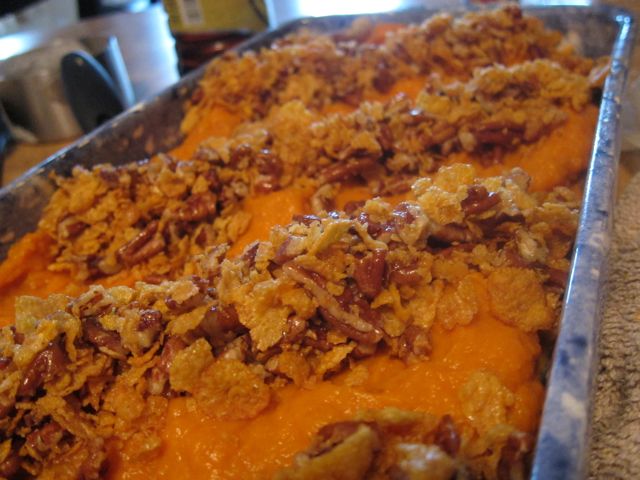 Place topping at an angle onto mashed sweet potatoes and bake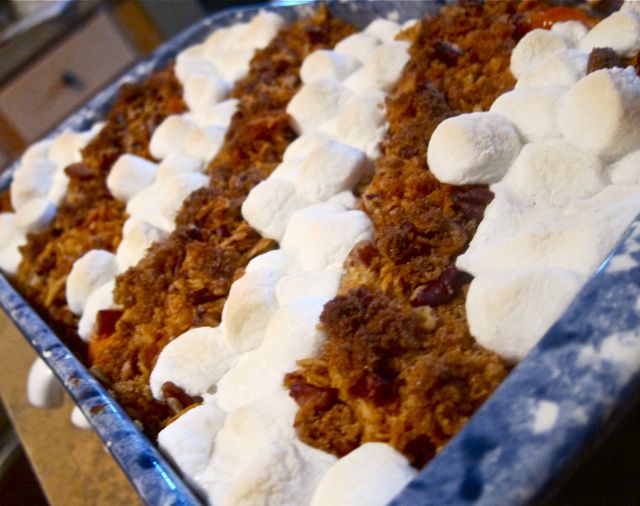 Add marshmallows in between the other layers and place back into oven until golden brown.
Sweet Potato Casserole
Ingredients
4 1/2 pounds sweet potatoes
1 cup granulated sugar
1/2 cup butter, softened
1/4 cup milk
2 large eggs
1 teaspoon vanilla extract
1/4 teaspoon salt
1 1/4 cups cornflakes cereal, crushed
1/4 cup chopped pecans
1 tablespoon brown sugar
1 tablespoon butter, melted
1 1/2 cups miniature marshmallows
Instructions
Preheat oven to 425
Clean and pierce sweet potatoes and bake for 1 hour or until tender
Let stand until cool to touch (about 20 minutes)
Reduce oven temperature to 350°.
Slice open sweet potatoes and take out insides, place in a large mixing bowl
Beat mashed sweet potatoes, granulated sugar, and next 5 ingredients at medium speed with an electric mixer until smooth.
Spoon potato mixture into a greased 11- x 7-inch baking dish.
Combine cornflakes cereal and next 3 ingredients in a small bowl.
Sprinkle over casserole in diagonal rows 2 inches apart.
Bake at 350° for 30 minutes.
Remove from oven; let stand 10 minutes.
Sprinkle marshmallows in alternate rows between cornflake mixture; bake 10 minutes.
Let stand 10 minutes before serving.
I love it – thank you Janelle!!!
Walk with the King,

This is a featured recipe from …..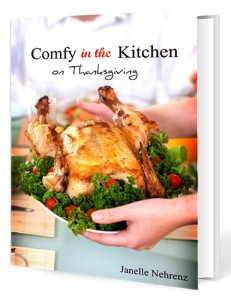 Simply Subscribe to Comfy In The Kitchen and you will receive this ebook FREE!
Janelle is a Christian, a Wife, a Stay at Home Mom of 3 young children and a proud- to- claim- it "Foodie". She absolutely loves to cook and typically has an audience of 3 children, pulled up on chairs, taking turns pouring ingredients into bowls. Her spiritual gifts are a mix of "hospitality and evangelism" and is here in the center of God's will hoping to help you get a little more "comfy in your kitchen"! You can find her displaying step-by-step photos of her recipes, giving devotionals,and sharing meal ministry stories on her blog.
You can follow Janelle's blog at
ComfyInTheKitchen.com
Every Friday she has a recipe link-up for bloggers – you gotta check it out!