Crescent Roll Apple Dumplings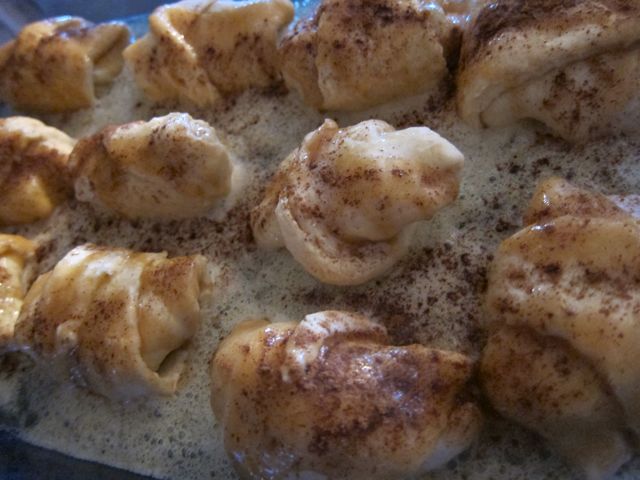 Janelle from Comfy in the Kitchen is showing us what to do with all of our fall apples – make Amazingly Easy Crescent Roll Apple Dumplings!!!  I've had these at her house and they are DEEEE-licious!!!  She writes:
I'll never forget the first time I tried these Apple Dumplings at my Mother-in-Law's house. She walked out of the kitchen wearing oven mitts holding the pan in her hands. She had a huge grin on her face and said I would never believe it- "Mountain Dew" was the *secret ingredient! "WHAT?!, who would ever think to put Mountain Dew in Apple Dumplings?!" I thought. Truly, I did not think they were going to be very good. But, I love my Mother-in-Law, so with a smile, my fork held high, and the silly comment "To my very FIRST caffeinated apple dumpling!" I dug in. "Mmmmm….WOW, are you serious!? Mountain Dew is in these?! These are delicious Kathy! Wohoo!" I said to her. I not only said it..I meant it…WOWSA! Alas, I have put aside my typical apple dumpling recipe (the kind that takes more time that I would like to admit) and showcase the most delicious EASY Apple Dumpling recipe you would ever stink you teeth into…enjoy ladies!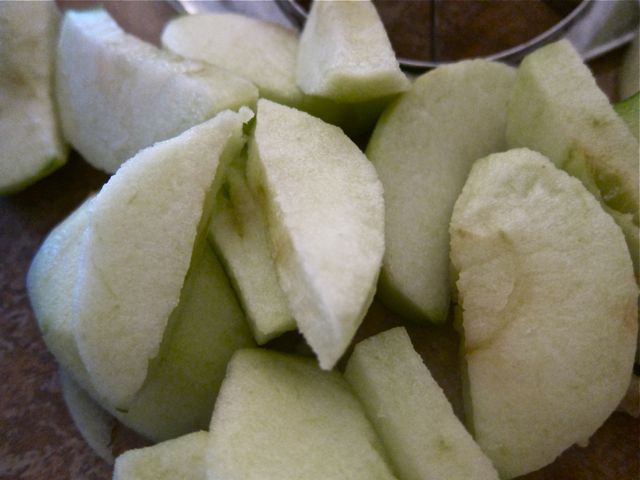 Peel, core and slice 3 Granny Smith apples (that is all you will need, honest).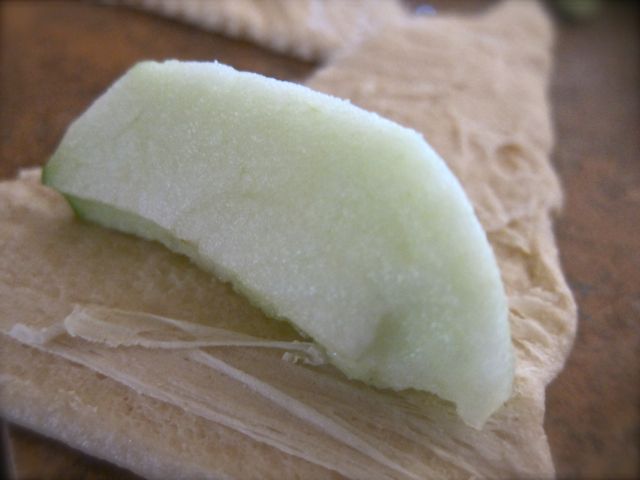 Place one slice of apple onto one triangle of crescent roll. Start at the wide bottom side and roll up a bit, tuck in sides , then continue rolling.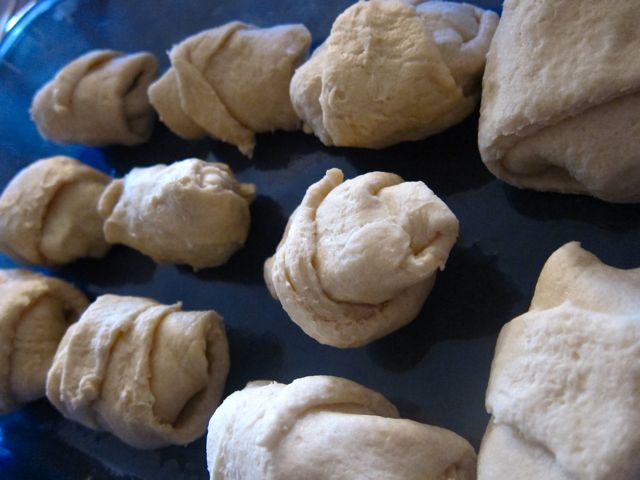 Place in a buttered 9×13 pan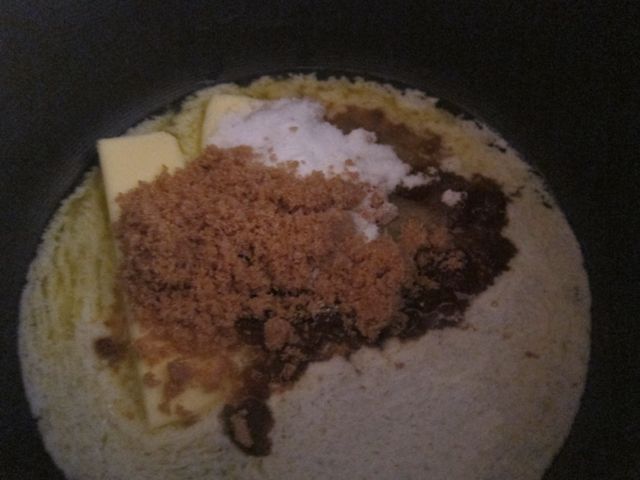 In a medium sauce pan add 1 cup butter, 1/2 cup white sugar, 1 cup brown sugar, and 1 tsp vanilla. Heat on medium high heat until boiling.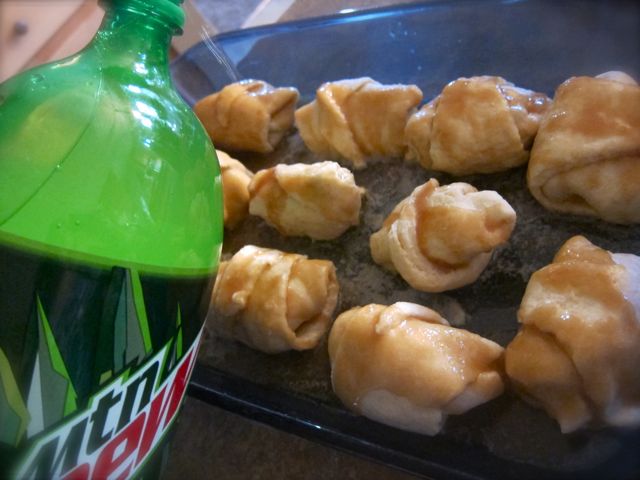 Pour sauce over apple dumpling then add Mountain Dew to the sides.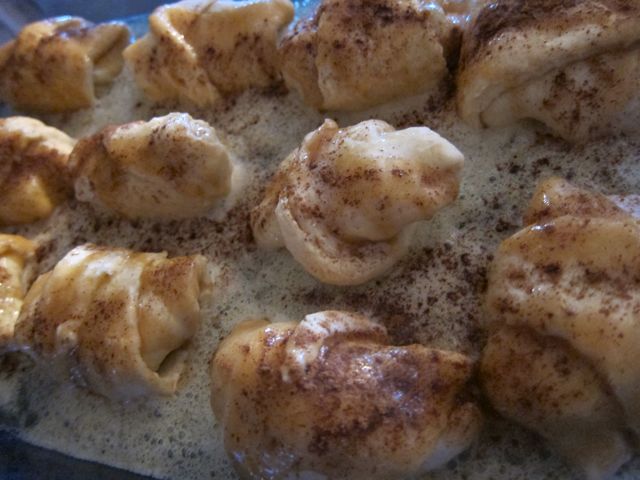 Sprinkle cinnamon on top. Bake uncovered in a 350 oven for appx 35 mins.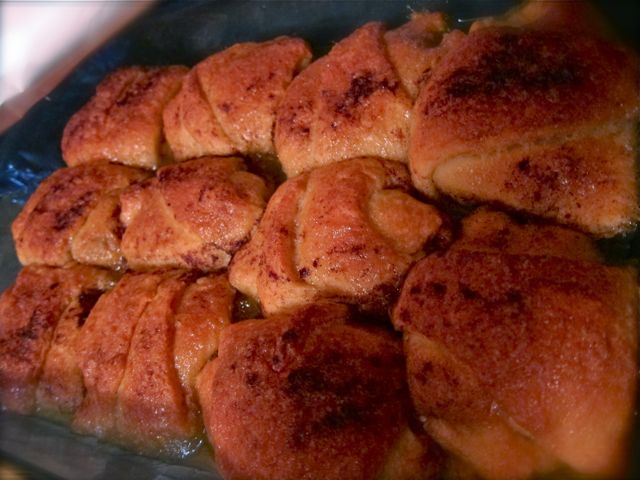 Here they are fresh and piping hot out of the oven. Serve with vanilla ice cream. This recipe makes a GREAT conversation piece…ask everyone to guess the *secret ingredient…they never will, hehe.
Mountain Dew Apple Dumplings
Prep time: 20 mins
Cook time: 35 mins
Total time: 55 mins
Serves: 12
Ingredients:
3 large Granny Smith Apples, peeled, cored, and sliced
2 (10 oz) cans pillsbury refrigerated crescent rolls (I used Grands)
1 cup butter
1 cup brown sugar
1/2 cup white sugar
1 tsp vanilla
1 tsp cinnamon (for spinkling)
1 (12 oz ) can of Mountain Dew
Instructions:
Preheat oven to 350
Butter a 9×13 dish and set aside
Peel, core and slice apples
Unroll crescent rolls
Take one crescent roll and place one piece of apple at the bottom of the triangle- roll up enclosing the sides. Make sure the apple is completely sealed and enclosed.
Continue doing this – if your apple slices are small, put a couple in.
Place your dumplings into your 9×13
Make your sauce by combining butter, sugars, and vanilla in a saucepan on medium high heat- bring to a slight boil.
Pour sauce over dumplings.
Add Mountain Dew to the sides.
Sprinkle with cinnamon
Bake uncovered for 35 mins.
Serve with vanilla ice cream!
Walk with the King,
*Janelle is a woman who is dependent upon Jesus, a mom, a Licensed Professional Counselor, and an advocate for meal ministry. You can find her displaying step-by-step photos of her recipes, giving devotionals, and sharing meal ministry stories on her blog. You can follow Janelle's blog at ComfyInTheKitchen.com.