My Mini Faith Crisis – Does God Hear My Prayers?
Years ago, I had a faith crisis. I questioned if God was really hearing my prayers. God spoke to me through his word and here's what he said:
Psalm 139:17,18
"How precious to me are your thoughts, O God!
How vast is the sum of them!
If I would count them, they are more than the sand.
I awake, and I am still with you."
As I emptied my suitcases from vacation, I found 100's of grains of sand stuck in the corners of the suitcase and inside of shoes. Memories of reading Psalm 139 on the beach wrapped around me like a warm blanket – comforting me.
I am on God's mind.
You are on God's mind.
Bask in this truth today!
Walk with the King!


This post is linked to Raising Homemakers, Titus 2sdays, and We Are That Family.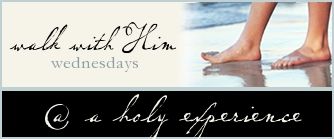 Today is Women Living Well Wednesday! It's a Link-Up Day!!!
Join the fun, do a little blog hopping and
don't forget if you join below -please add the Women Living Well Wednesdays button to your post so your readers can find us here!
(
posts can include the topics of marriage, parenting, homemaking, finances, recipes, organization and more!
)