An Unplanned Video of my Clutter – Making Your Home a Haven
If you have accepted the Fall Challenge, your candles are lit, soft music is playing and you're praying for peace. Are you feeling a difference? We are!
When I told my husband about this next challenge he said "you really should have a guest post for that one!" We laughed – Why? Because it's about dealing with clutter – one of my weak spots.
Here's week #3's Challenge: List a few of the spots in your home that make you visually stressed. Now go buy something for that spot – like a basket to put it all in! Work on cleaning up clutter. Throw things away.

While you're at it – clean up some clutter in your spiritual life. What gets in the way of your peace spiritually?
I've had some feedback from readers that felt I appeared to have it all together. So, on the spur of the moment last Friday night, I decided to make an unplanned video to show you what I lo0k like and my kitchen looks like on a normal day. Real life is messy and you will see, I am far from being a perfectionist. My kitchen faucet could honestly be dripping 20 years from now and I don't think I would care lol! It drips right behind me while I work on my computer and I don't even notice it! Maybe it's because I have that music playing right? lol!

(If you can't see the video click here.)
We have a two part challenge – first let's strive for creating a haven:
1. Pick an area of your home where clutter collects and put something there to contain it. For example, I keep a basket at the bottom of our stairs to collect all the little things that need to go upstairs. My family agrees that we need a bigger basket – one the size of a laundry basket would be more appropriate because often we are carting up stuffed animals, books, toys, my purse etc.
Put a bin to catch papers in the kitchen, office, family room etc. – as you can see mine is overflowing. I told you my husband suggested a guest post on this one lol!!!
I also love using buckets to organize – you can read about that at
this link
!

2. Set a timer for 20 minutes, grab a trash bag and walk through your house throwing stuff away!
Throw away old magazines, broken toys, papers etc. The rule is if you haven't used or worn it in a year – either give it away or throw it away.

Clutter attracts clutter.

If you are a pack rat this is a challenge – take this challenge – you won't regret it and trust me you won't miss these things! Things will never make you happy. Unused clutter only weighs you down.

Now on to the spiritual part – let's get down to business!
I John 1:9 says "If we confess our sins, he is faithful and just and will forgive us our sins and purify us from all unrighteousness."
Pause here at your computer and answer this question…what sin have I not confessed? Now confess it! That's all and be free!
All of us carry the stain of sin.
Sin is something we all have in common
. At any moment we may sin again…
Often times we let ourselves off the hook too easily. We justify our sin saying "I'm just discerning not judgemental. I'm just truthful not rude. I'm just sharing prayer requests not gossiping"
Anne Graham Lotz says "Repentance must be a spiritual discipline or you will become a hypocrite. Root out basic sins early in your life."

Most of Women Living Well's readers fall in the 20-40+ range…we are young! Root out those sins now before they become habits – do not get cozy with sin!
So today – this is a call to repentance. I am down on my knees with you and I want all of us to be right with God.
Practice repentance daily – free yourself of spiritual clutter.
If you are participating in this challenge leave a comment below with how it's going – if you are a blogger copy the button code along the side bar into your blog post, write about how it's going and link up on Women Living Well's Wednesday Link-Up Party!
You are all doing an amazing job so far! I so appreciate you joining me on this journey!!! Persevere!
Walk with the King!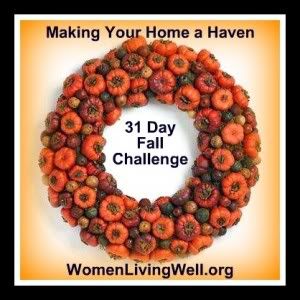 Walk with the King!
**Thanks to Stacey from
Musings of a Music Making Mommy
, there's a button code for the "Making Your Home a Haven" button, on the sidebar! Thanks Stacey for sending me this code!