Janelle from Comfy in the Kitchen is SO good at cooking for a crowd.  She has done it many times – so here's her menu plan and pictures from a weekend she spent cooking for the new members at church.  She writes: 
I can't even explain how much fun it was cooking for a crowd in our church's new kitchen…plastic gloves, hair nets, disinfectant and all…I had a blast. Here are some photos of the day.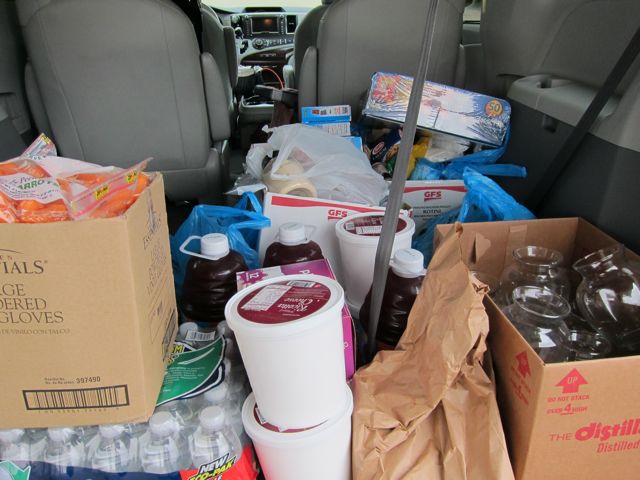 My van was FILLED with food, drinks, vases…you name it.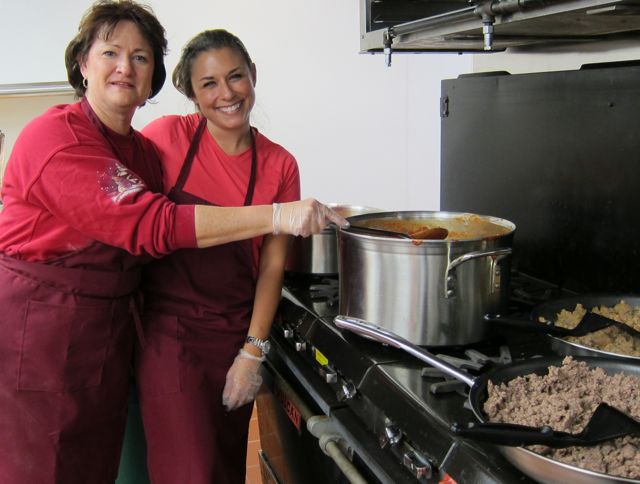 Alice and me making a HUGE pot of Grandma Ruth's Spaghetti Sauce! We also had ground chuck and Italian sausage cooking on the stove top.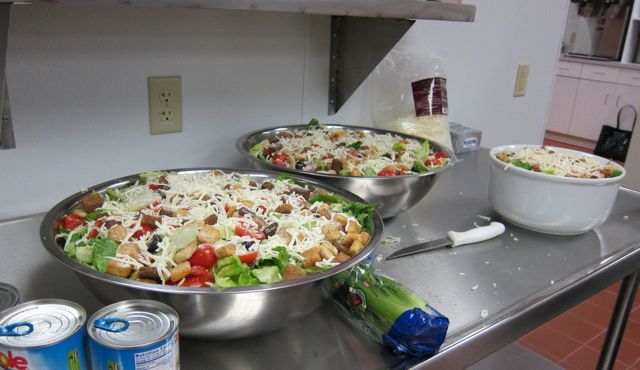 2 large salads made with Romaine, tomatoes, olives, croutons, cheese and seasonings. We semi-homemade the dressing with Good Seasons, oil and Red wine vinegar, a little sugar, and parmesan cheese.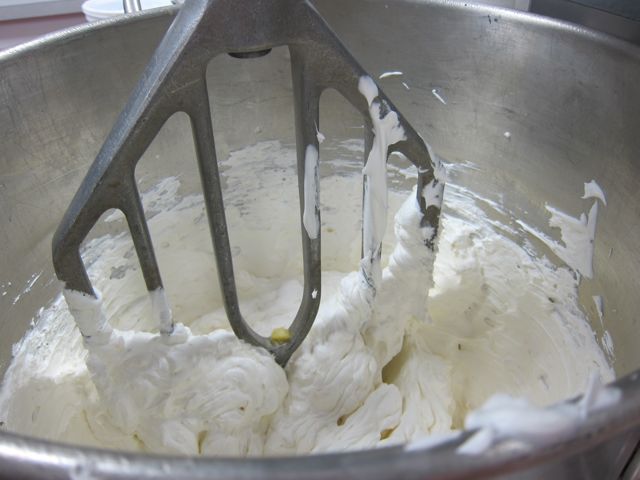 This mixer was amazing! It whipped up our Pineapple Fluff in no time at all! (I multiplied this recipe by 3)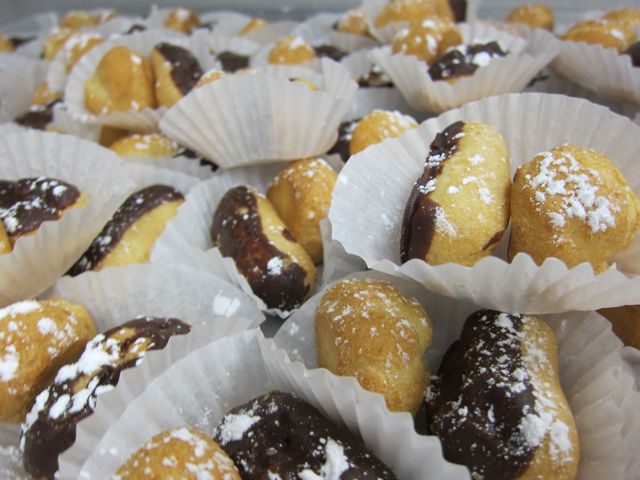 Our Cream Puffs/Eclairs – these were purchased, placed in muffin cups and sprinkled with powdered sugar.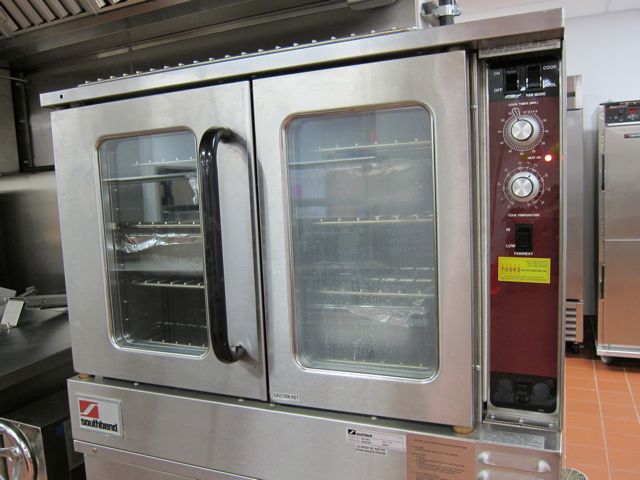 3 very large lasagna's baking in the convection ovens. One was meatless-and was appreciated as some people didn't eat meat at the event. That is something to always be considerate of when you are cooking for a crowd-meatless items.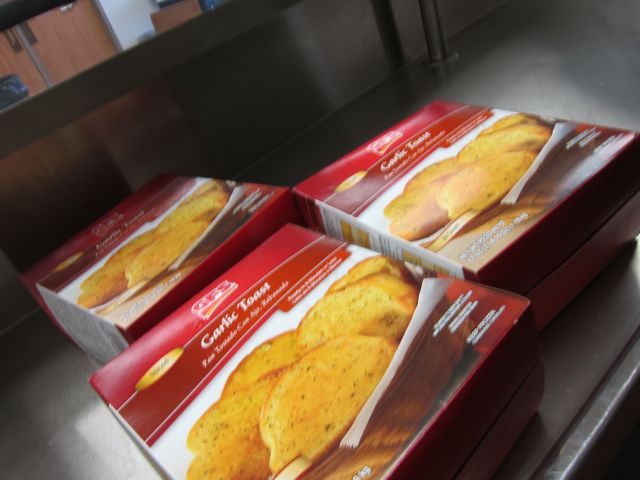 GFS Garlic Toast- I was very impressed by this product. SO many people told me they smelled this baking in the oven while service was going on…YUM (not to mention easy)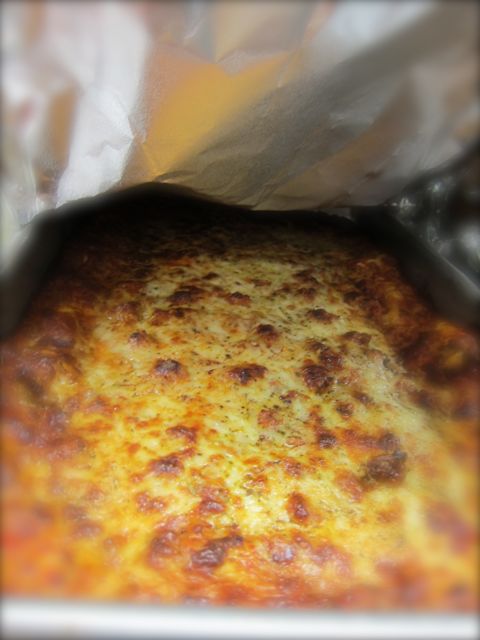 The lasagna is done! This also smelled delicious baking …
Our buffet warmer- this was a very convenient way to cart the warm food into the room. We filled it with water, turned it on and placed the pans of lasagna with covers on to keep warm. We also had room for the bread.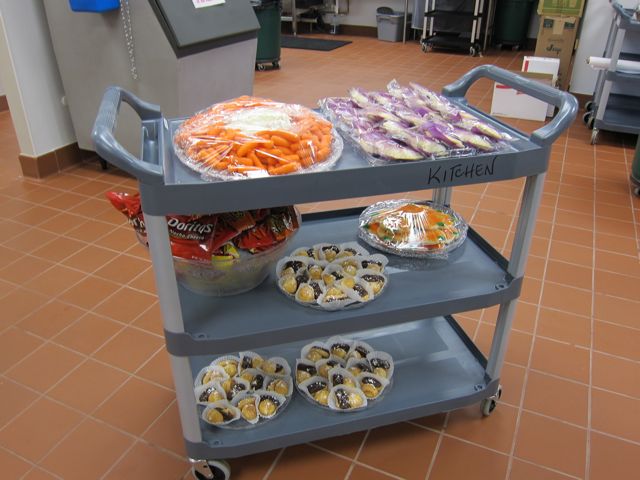 Getting ready- We had some "kiddo" food in case they didn't want lasagna. Their menu included Peanut butter and Jelly sandwiches, Pumpkin shaped sugar cookies, chips, carrots and veggie dip and juice boxes.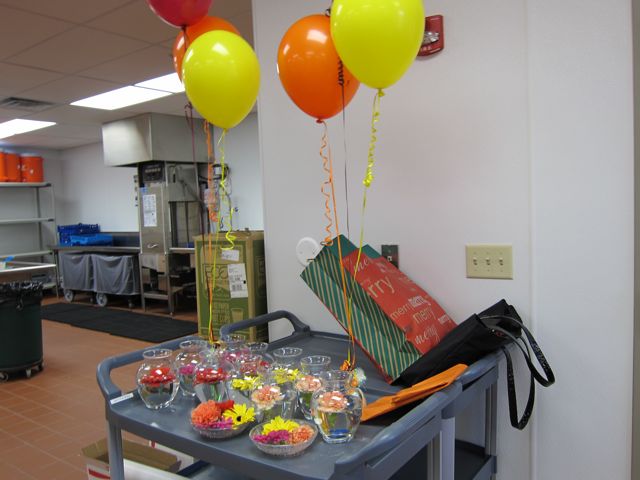 Some easy decorations. We don't have a ton of time to decorate as the room was being used for first service and lunch started after second service. So we used white paper rolls for table coverings and set out these pretty glass vases with floating flowers. We also had balloons for the main table.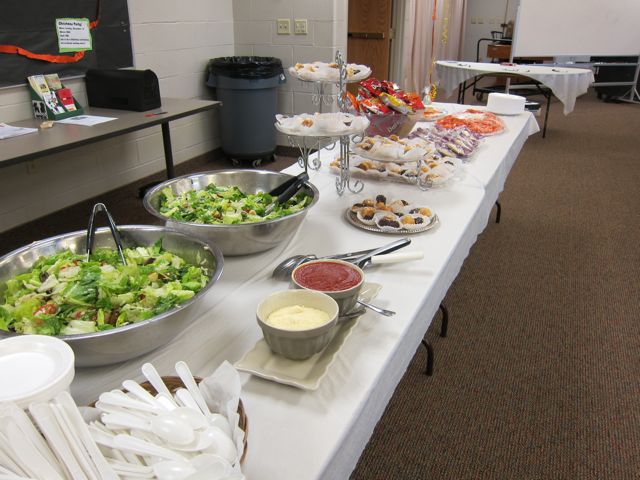 Setting up the main table. Cutlery, salads, extra parm cheese and sauce, pastries and the kiddo table at the end.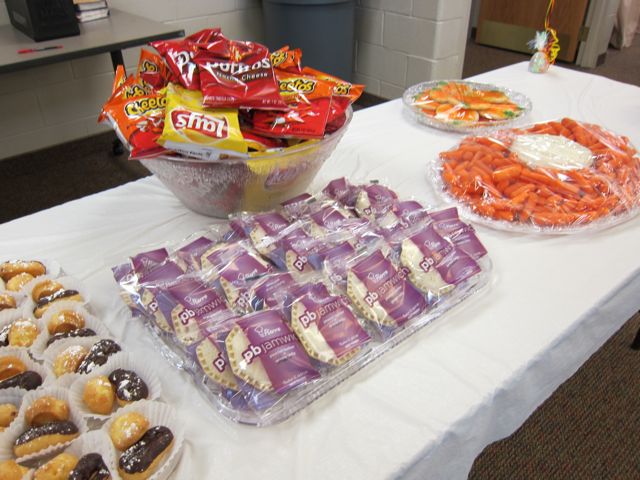 The kids table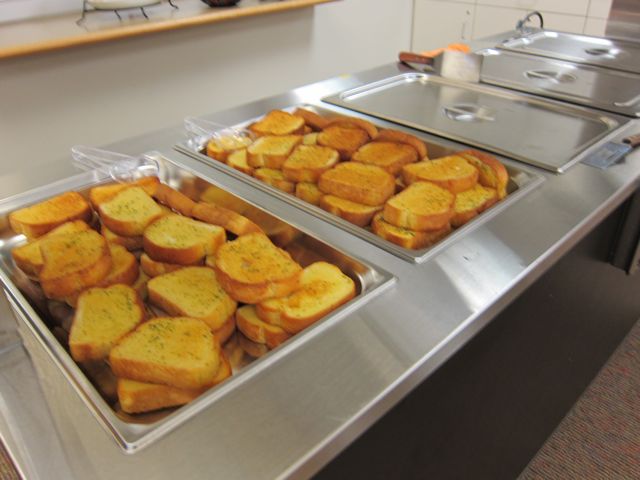 Garlic bread and lasagna in the warm buffet.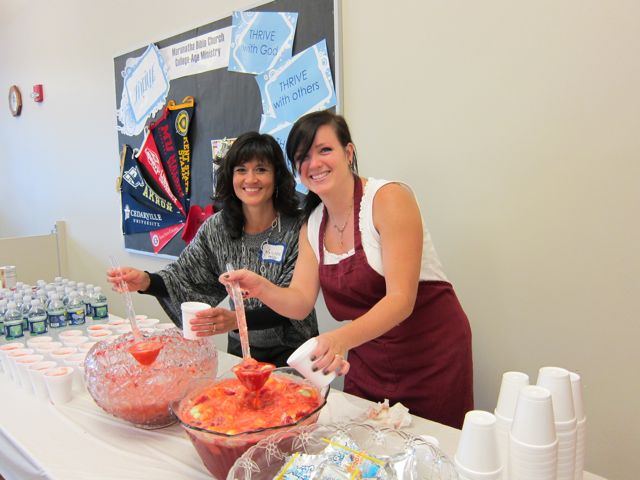 Kristen (Courtney's sister) and Michelle serving punch. This was made with fruit punch, 7up, frozen strawberries, and rainbow Sherbert. We also had bottled water, sodas, and juice boxes.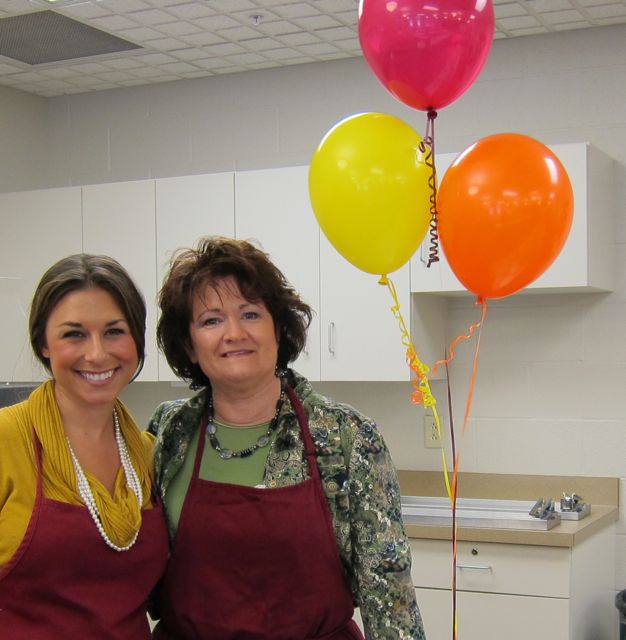 Alice and me after a full weekend of cooking!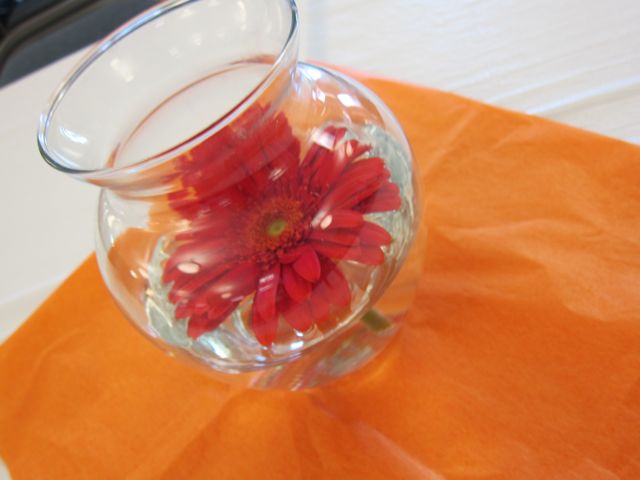 These are such inexpensive decorations…I paid 99 cents a vase at Marcs and have reused them for SO many events. Fill them up with water and place a daisy inside and you have a very elegant/festive centerpiece.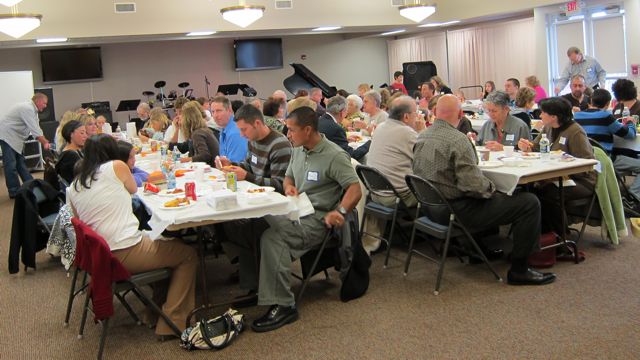 Is this beautiful or what?! A room filled with fellowship.
Menu for the day:
Garlic Toast
Italian Tossed Salad
Eclairs/Cream Puffs
Pineapple Fluff
Simple Party Punch (I added frozen strawberries)
Kids Menu:
Peanut Butter and Jelly (25)
Carrots with Veggie dip (3 large bags)
Chips (25)
Pumpkin Shaped Sugar Cookies (25)
Juice Boxes (25)
Lasagna for 50 Adults
8 pounds Mozzarella (Pre-shredded)
15 lbs Ricotta Cheese (whipped preferred)
6 eggs
2 Tbsp parsley
1 Tbsp Garlic Powder
5 lbs ground beef (butcher preferred)
5 lbs Italian Sausage (butcher preferred)
9 (9oz) boxes of Barilla flat /no boiling required Lasagna noodles
3 cups Parmesan Cheese (for inside the lasagna)
Sauce:
51 oz cans of Tomato Sauce
2 51 oz cans of Tomato Puree
1 51 oz can of Tomato Paste
1 51 oz can of water (add this slowly and to your desired consistency-you may not need all of this)
3 green peppers cut in half/cores and seeds removed
6 stalks of celery cleaned off
3 Tbsp Garlic Powder
1/2 Sugar
1 Cup Parmesan Cheese (into sauce)
2 Tbsp Parsley
2 Tbsp Oregano
2 Tbsp Sweet Basil
Instructions
Place all sauce ingredients in a large pot (I used 2 to prevent burning). Place halved green peppers and full celery in for flavoring only-these will come out of sauce before serving (do not dice-leave intact). Let sauce simmer all day. Brown Italian Sausage and Ground Chuck. Beat 15 lbs Ricotta Cheese (whipped preferred),6 eggs,2 Tbsp parsley, 1 Tbsp Garlic Powder together in a large mixing bowl. Set aside. Place Mozzarella cheese in a large bowl.
Assembly:
Line up 3 20x12x4″ Chaffer pans (we are doing 3 layers)
Ladle sauce in bottom of each pan to cover fully
Layer noodles over sauce (I used 12 noodles a row)
Spread Ricotta Cheese mixture over top
Sprinkle with Mozzarella Cheese and Parmesan Cheese
Sprinkle with ground chuck and Italian sausage
Ladle sauce over to cover
Begin again- 3 layers. Top with cheese and sprinkle with parsley
Bake:
Convection oven heated to 350 for 1 hour 15 mins. Uncover and bake 20 more mins. Keep checking because every oven is different.
*Keep in mind I made 1 lasagna with no meat.
Ladies, I hope I can be an encouragement to you to do this very thing at YOUR church! If you have the gift of hospitality, it will be such a blessing for you-not to mention those on the receiving end. Much love goes out to you…Thanks for reading. ~ Janelle
Walk with the King,
Courtney
*Janelle is a woman who is dependent upon Jesus, a mom, a Licensed Professional Counselor, and an advocate for meal ministry. You can find her displaying step-by-step photos of her recipes, giving devotionals, and sharing meal ministry stories on her blog. You can follow Janelle's blog at ComfyInTheKitchen.com.