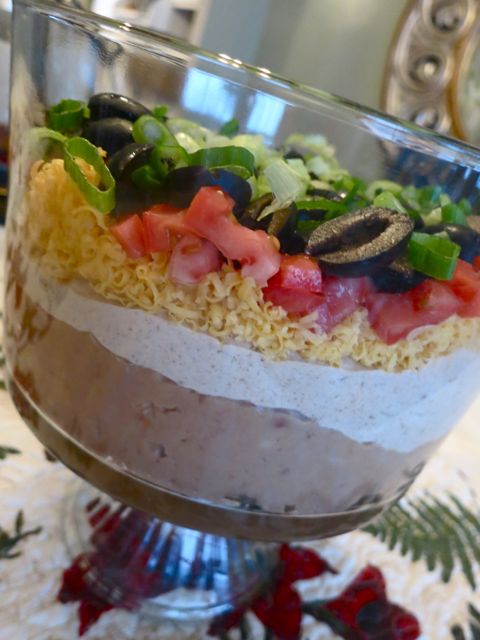 Janelle from Comfy in the Kitchen has an awesome Mexican Layered Dip recipe beautifully displayed in her trifle bowl.  Perfect to serve with the chips!
Janelle writes:
It's delicious, filling, simple…. and pretty. What's not to love about this dip? I love how this trifle bowl displays all the different layers and colors! This recipe makes enough for a crowd and is excellent to bring to potlucks and get togethers!
Don't have a trifle? You certainly can use a 9×13 pan!
(*Naturally Gluten Free!)
Mexican Layered Dip
Ingredients
1 32 oz can of refried beans
1½ pack of taco seasoning
1 16 oz carton sour cream
3 Roma tomatoes diced
2 green onions chopped
2½ cups of freshly shredded cheddar cheese
6 oz can black olives sliced
Instructions
Beat refried beans with a mixer -pour to the bottom of trifle bowl.
Beat sour cream with taco seasoning-add onto beans.
Shred cheddar cheese and add to the top of sour cream mixture.
Sprinkle diced tomatoes, onions, and black olives on top. Cover and refrigerate until ready to serve.
Serve with tortilla chips!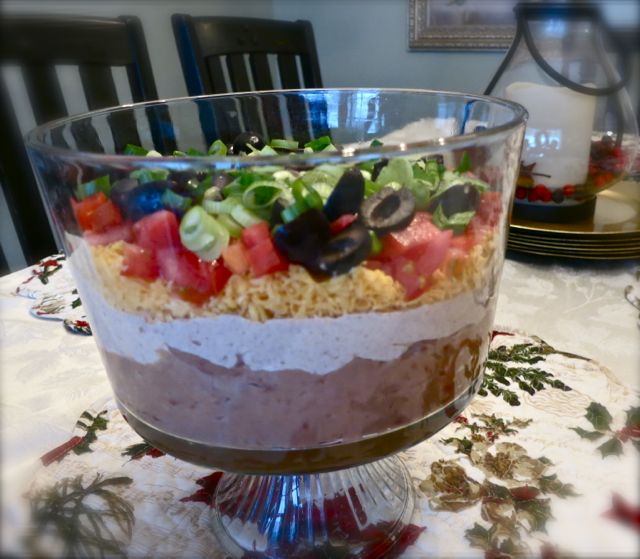 Thank you so much Janelle for this recipe!!!
Walk with the King,
*Janelle is a woman who is dependent upon Jesus, a mom, a Licensed Professional Counselor, and an advocate for meal ministry. You can find her displaying step-by-step photos of her recipes, giving devotionals, and sharing meal ministry stories on her blog. You can follow Janelle's blog at ComfyInTheKitchen.com.