I bag of Rolo candies, 1 bag of square pretzels, 1 small bag of pecan halves
 (I purchase my pecans at Marc's because they are less expensive there)
I love this recipe from Janelle at Comfy In The Kitchen!!!  This is my kind of Christmas cookie – quick and easy lol!
Janelle writes: Here is an easy and YUMMY recipe for the holidays…the perfect mixture of sweet and savory! You can add these little treats to a cookie tray, place them in a Christmas box with tissue paper as a gift, or have them out in candy dishes for Holiday company! I am showing two ways to make them below. 
(My children prefer pretzel sandwiches)
Simply place pretzels on a cookie sheet and unwrap Rolos and place on top
Place these in an oven heated to 350. Let the chocolate melt slightly for 5 mins and take out. 
Place another pretzel on top! (I added sprinkles)
To make "turtles",  simply place a pecan halve on top.
Treats for the children who are coming over tonight! 
Can't forget the grown-ups! MMMmmmm…. 

Rolo Pretzel Sandwiches/Turtles

1 Bag Rolos
1 Bag square pretzels
and/or
1 Bag pecan halves
(sprinkles)Preheat oven to 350. Lay out pretzels on a cookie sheet, place Rolos on top of each pretzel. Place in oven for 5 mins. Take out and gently press pretzels/pecans on top. Decorate with sprinkles if desired. Place in refrigerator on cookie tray for 1 hour to set.Enjoy!
~Janelle 

Thank you Janelle for sharing this recipe with us!!!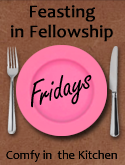 If you are in need of some fresh new recipes for the fall – then visiting Janelle's blog at Comfy In the Kitchen is a must! She also has a Feasting In Fellowship Friday Link-Up Party happening right now – join the fun!!