Oh my word – I LOVE this Strawberry Pretzel Salad and am SO excited to share it with you all today! 
Janelle from Comfy in the Kitchen is back and she writes:
Let me tell you, there are NEVER leftovers of this! I have had many requests to make this on the Comfy blog…so here it is Ladies!!! The pretzel crust along with the cream cheese and strawberries offers a sweet and savory mixture that is SURE to please everyone in your family!
I made this for our bible study…but I knew I had to make a small extra one for my family or I would be in BIG trouble.
By the way- my recipe has a thicker pretzel crust than most…it's better that way, oh yumm!!! 
Make Jell-O with water according to package directions. Then, take off burner and add frozen strawberries. I do the Jell-O part first so that it is nice and cooled when I am ready to use it. The frozen strawberries help cool it down as well.
Crush your pretzels in a large Ziploc bag with a mallet
Add butter and sugar and stir with spoon. Bake in a prepared 9×13 pan for 7 mins in a 400 oven.
Beat cream cheese and sugar together with mixer
FOLD in cool-whip until well incorporated…this is IMPORTANT!
Line up all of your ingredients. Crust should be completely cooled (don't cheat), Jell-O should be cooled (don't cheat)
Spread cream cheese mixture onto your pretzel crust
Make sure to spread it evenly and all the way over to the edges!!! If you don't your Jell-O will spill over and go under your crust.
Pour on the Jell-O /strawberry mixture. Place in refrigerator until well set.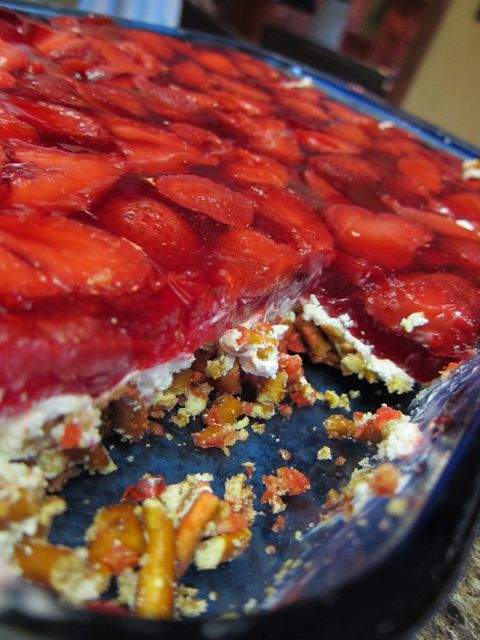 A VERY special treat!
Prep time: 40 mins
Cook time: 7 mins
Total time: 47 mins
Serves: 12-15
A delicious dessert that is sweet, savory, creamy and crunchy. When in doubt, make this….it is a favorite in our family.
Ingredients
3 cups crushed pretzels
1 cup melted butter
4 tablespoons sugar, plus 3/4 cup sugar
1 (8-ounce) package cream cheese
1 (8-ounce) container whipped topping
2 (3-ounce) packages strawberry gelatin dessert mix
2 cups boiling water
2 (10-ounce) packages frozen strawberries
Instructions
Preheat oven to 400 degrees
Make Jell-O with water per package instructions.
Take off burner and add strawberries. Set aside to cool.
For the crust, mix the pretzels, butter, and the 4 tablespoons of sugar.
Press pretzel mixture into a 9 by 13-inch pan and bake for 7 minutes.
Set aside on wire rack to cool.
In a mixing bowl, beat together cream cheese and 3/4 cup sugar
Fold whipped topping into the cream cheese mixture.
Once crust and Jell-O is cool you are ready to put your salad together!
On pretzel crust, spread cream cheese mixture evenly then pour Jello with strawberries on top
Refrigerate for 3-4 hours until well set.
Notes
Please be sure to spread cream cheese mixture evenly and up against the edges of the pan…this will ensure that the Jell-O will not seep to the bottom under the pretzel crust.
Thank you SO much Janelle!! This looks delicious!! 
Walk with the King,

Need encouragement?
Then this Rest and Release Bible Study is for you!
Find all of the free resources HERE.
The Bible Study is available on Amazon
in paperback here and Kindle here.