Fancy but Easy Wedge Salad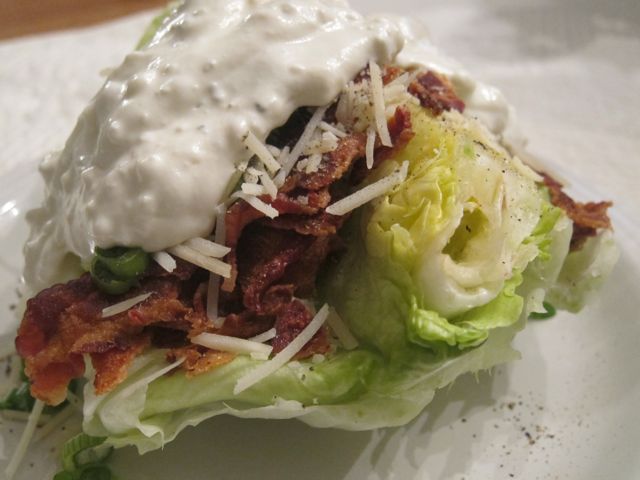 I'm so thankful for Janelle from Comfy in the Kitchen's posts each Wednesday. I love how fancy this salad is!
Janelle writes:
This beautiful salad is a"little" fancy..but a "lot" easy (less cutting means more time to make the main entree!). Impress your guests with a drizzle of homemade blue cheese dressing and we are taking this salad to the next level of deliciousness! YUMMMmm.

With Iceberg lettuce, I always take off the first layer of lettuce and throw it away.

Then, I cup the lettuce in one hand and "bang" the core on the side of the sink- this loosens the core.

Then, I simply dig out the core with my hand- it comes out easy. I take the rough/thick edges off around the side. Rinse!

Slice down the middle crossways to make 4 wedges. Top with bacon, shredded parmesan cheese, and fresh chives.
Now for the dressing! In a medium bowl combine mayo, sour cream, blue cheese, salt, and Worcestershire sauce.

Whala….add some freshly cracked pepper . Ohhhhh, Ahhhhhh…..
Fancy but Easy – Wedge Salad with Homemade Blue Cheese Dressing
Serves: 4
Prep time:
Total time:
Ingredients
1 head of Iceberg Lettuce (quartered)
1 cup cooked crumbled bacon (appx 8 slices)
Shredded Parmesan Cheese for sprinkling
Chives (sliced green onions) for garnish
Cracked Black Pepper
Dressing: (Combine all)
1 Cup Mayo
1 8 oz container sour cream
1 4 oz crumbled blue cheese
½ tsp salt
2 tsp Worcestershire sauce
Place each wedge on an individual plate. Add toppings and dressing.

Janelle is a Christian, a Wife, a Stay at Home Mom of 3 young children and a proud- to- claim- it "Foodie". You can find her displaying step-by-step photos of her recipes, giving devotionals,and sharing meal ministry stories on her blog. You can follow Janelle's blog at ComfyInTheKitchen.com Follower her on facebook at Comfy In The Kitchen Follow her on Twitter at ComfynKitchen