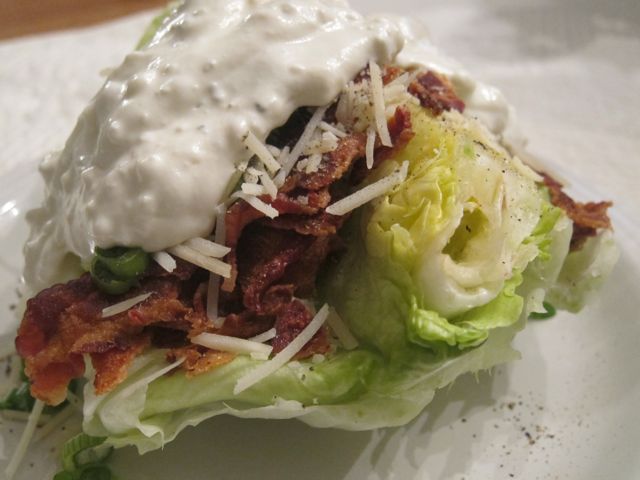 I'm so thankful for Janelle from Comfy in the Kitchen's recipe posts.  I love how fancy this salad is!
Janelle writes:
This beautiful salad is a"little" fancy… but a "lot" easy (less cutting means more time to make the main entree!). Impress your guests with a drizzle of homemade blue cheese dressing and we are taking this salad to the next level of deliciousness! YUMMMmm.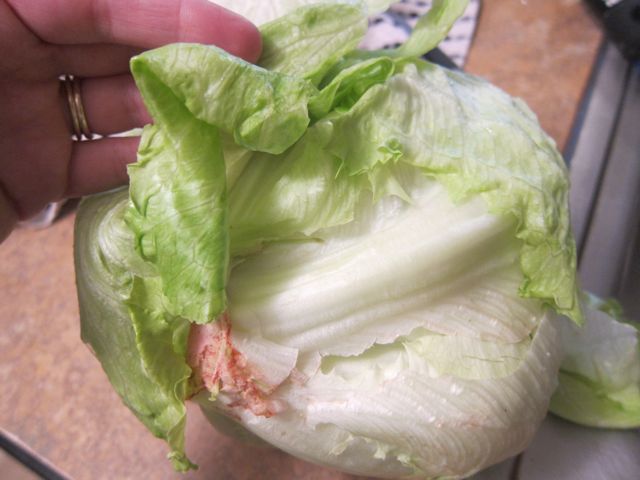 With Iceberg lettuce, I always take off the first layer of lettuce and throw it away.

Then, I cup the lettuce in one hand and "bang" the core on the side of the sink- this loosens the core.

Then, I simply dig out the core with my hand- it comes out easy. I take the rough/thick edges off around the side. Rinse!

Slice down the middle crossways to make 4 wedges. Top with bacon, shredded parmesan cheese, and fresh chives.
Now for the dressing! In a medium bowl combine mayo, sour cream, blue cheese, salt, and Worcestershire sauce.

Whala…. add some freshly cracked pepper.
Fancy but Easy – Wedge Salad with Homemade Blue Cheese Dressing
Serves: 4
Prep time:
Total time:
Ingredients
1 head of Iceberg Lettuce (quartered)
1 cup cooked crumbled bacon (appx 8 slices)
Shredded Parmesan Cheese for sprinkling
Chives (sliced green onions) for garnish
Cracked Black Pepper
Dressing: (Combine all)
1 Cup Mayo
1 8 oz container sour cream
1 4 oz crumbled blue cheese
½ tsp salt
2 tsp Worcestershire sauce
Place each wedge on an individual plate. Add toppings and dressing.

*Janelle is a woman who is dependent upon Jesus, a mom, a Licensed Professional Counselor, and an advocate for meal ministry. You can find her displaying step-by-step photos of her recipes, giving devotionals, and sharing meal ministry stories on her blog. You can follow Janelle's blog at ComfyInTheKitchen.com.