Is Thanksgiving at your house this year?
Here's an extravaganza of recipes to help you out!!!
First – click here to see how I bake my turkey…in a Roaster - it comes out perfectly moist every time and using a roaster leaves extra space in the oven for side dishes – a double bonus! (that's my big sister with me – she's the turkey carver!)
I'll be making Janelle's Fresh Herb and Sausage Stuffing this coming week!
And click here for Janelle's beautiful Sweet Potato Casserole Recipe: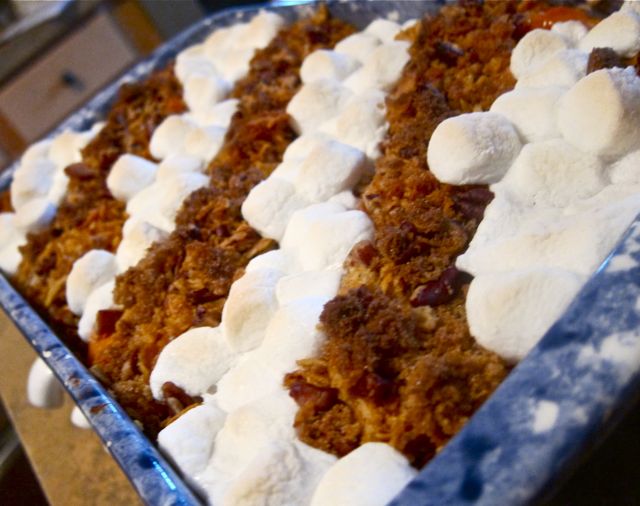 And if you want to make your own Homemade Cranberry Sauce – try my Uncle's Recipe!
For dessert, we always have this Apple Crumb Pie – my sister's recipe:
And here are some fun no-bake cookies your kids will love to make!
Or these Simple 3 Ingredient Turkey Cookies:
And if you are looking for something low-fat – you have to try Janelle's Low-Fat Pumpkin Trifle:
I hope these help you out and that you have a wonderfully delicious Thanksgiving!!!
Walk with the King,

All of Janelle's recipes above are featured in her Thanksgiving ebook AND there's many more recipes inside.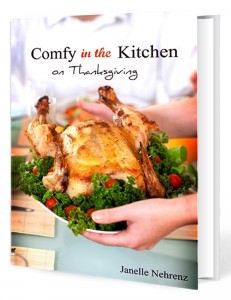 Simply Subscribe to Comfy In The Kitchen and you will receive this ebook FREE!
Janelle is a Christian, a Wife, a Stay at Home Mom of 3 young children and a proud- to- claim- it "Foodie". She absolutely loves to cook and typically has an audience of 3 children, pulled up on chairs, taking turns pouring ingredients into bowls. Her spiritual gifts are a mix of "hospitality and evangelism" and is here in the center of God's will hoping to help you get a little more "comfy in your kitchen"! You can find her displaying step-by-step photos of her recipes, giving devotionals,and sharing meal ministry stories on her blog.
You can follow Janelle's blog at
ComfyInTheKitchen.com
Every Friday she has a recipe link-up for bloggers – you gotta check it out!